6 Tips to Help You Get Ready for Dental Visits in Belmont WA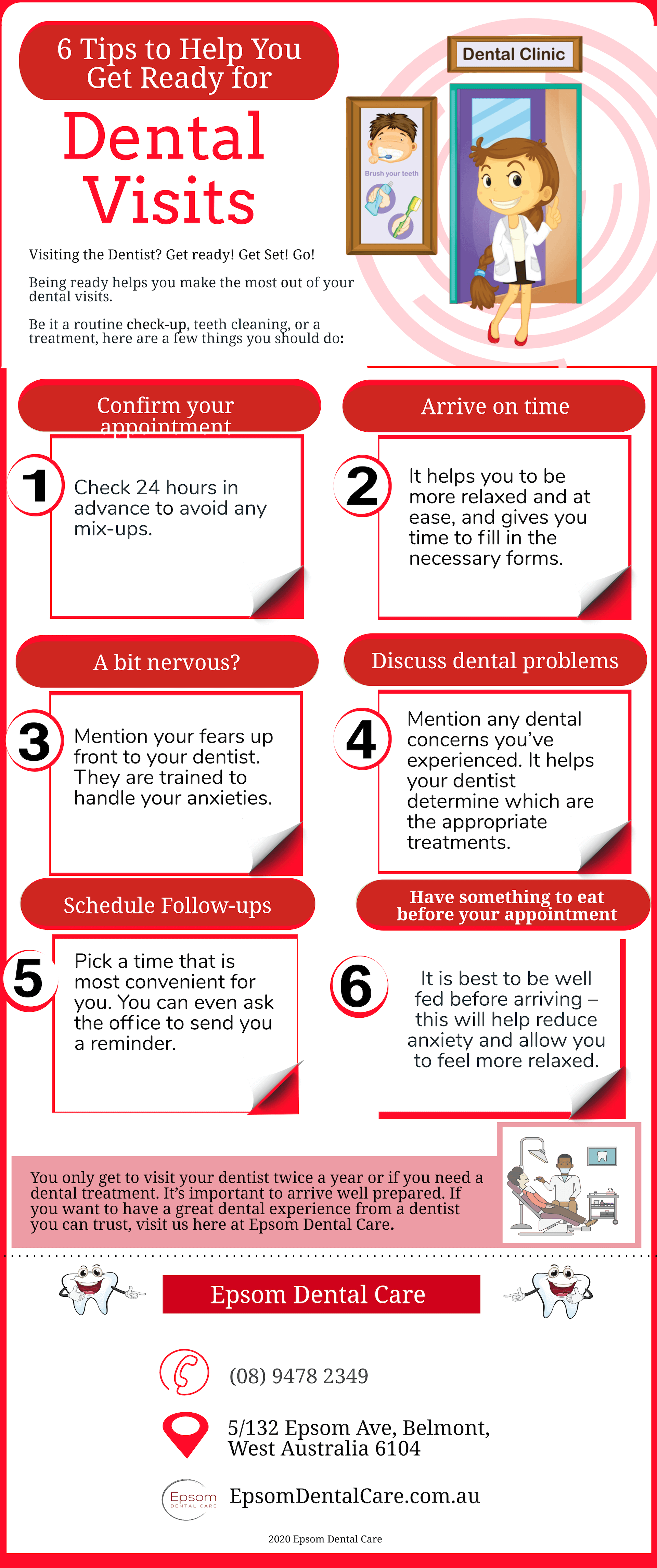 Visiting the dentist? Get ready! Get set! Go!
Being ready helps you make the most out of your dental visits.
Whether you are visiting for a routine check-up, dental cleaning, or treatment, here are a few things you should do.
#1. Confirm your appointment
Check with our Belmont WA office, 24 hours in advance so you'll avoid any confusion.
Confirming your appointment early on helps our dental team take the time to prepare for your visit, take care of your needs, and complete your treatment effectively.
#2. Arrive on time
Arriving on time (or early!) helps you to feel more relaxed and at ease and gives you enough time to settle down and take care of needed concerns, like filling out forms.
#3. A bit nervous?
Mention your fears to your Belmont WA dentist. They are trained to handle your anxiety.
Dental clinics are comfortable and interactive to provide a friendly atmosphere for all patients, especially children.
Do not worry about anything else during your appointment. Your Belmont WA dentist is always ready to back you up!
#4. Discuss dental problems
Let your Belmont WA dentist know about any dental problems you've experienced. This helps your dentist determine the right treatments to perform.
Dental problems that are not treated properly can cause more trouble in the future in the form of more complicated treatments, hassle, and extra expenses.
#5. Schedule follow-ups
In scheduling your follow-up visit, choose a time that is most convenient for you. You can ask our staff to send you a reminder beforehand.
Book your follow-up visits, especially if you have received treatments that need to be monitored from time to time, like teeth whitening touch-ups, new dentures, or dental veneer and crown fittings.
#6. Have something to eat before your appointment
It is recommended to eat before arriving at your appointment – this will help reduce anxiety and help you feel more at ease.
Remember that sometimes, your Belmont WA dentist will need to administer anaesthetics, which means that eating after the appointment won't necessarily be easy and it can be very messy!
We always appreciate patients who brush their teeth before sitting in the dental chair, but if you can't, don't worry, your Belmont WA dentist is used to removing food stuck between teeth.
You only get to see your dentist twice a year or if you need dental treatment. It's important to arrive prepared and informed.
If you want to have an amazing dental experience from a trusted dentist, visit us here at Epsom Dental Care.
Epsom Dental Care and your Dental Health
At Epsom Dental Care, we know that going to the dentist is not everyone's favourite activity, but we will make it as enjoyable for you as possible.
We are here to answer any of your questions and ensure that you have a healthy and beautiful smile.
Same Day Dental Emergency Appointment Available in Belmont WA
If you have any questions about our services, we are happy to answer any questions and also schedule you an appointment. Contact us today at (08) 9478 2349.
We are located at 5/132 Epsom Ave in Belmont WA.