A minimally invasive solution with a fixed full-arch restoration for patient satisfaction
Can only four implants replace all of the teeth on the upper or the lower jaws? Thanks to modern dental implant technology, the answer is YES.
Believe it or not, tooth loss is remarkably widespread among adults, especially as we age. Many people are missing all of their teeth in the upper and/or lower jaw arches.
Rather than living with the discomfort and hassles of wearing removable dentures, many people are choosing what is called "all-on-four®" dental implant restoration.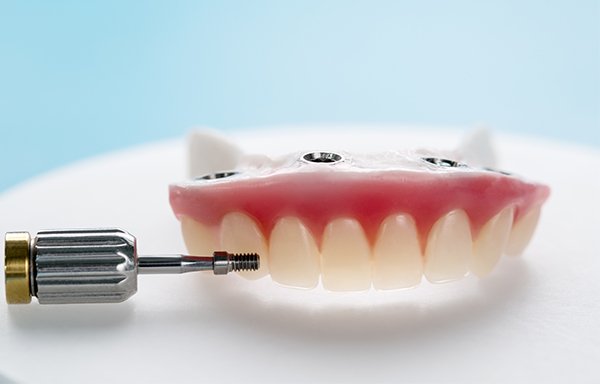 All-on-4 treatment concept is a cost-effective, graftless solution that provides patients with a fixed full-arch prosthesis on the surgery day. 
The All-on-4® treatment concept characteristics include:
Full-arch rehabilitation with only four implants
Two straight front implants and two implants tilted up to 45º in the rear.
On-the-spot function (fixed provisional bridge)
Suitable for patients meeting criteria for quick placement of implants.
Graftless process
Bone grafting is bypassed by tilting the posterior implants, utilising available bone.
Are You a Qualified Candidate?
The best candidates for All-on-4 dental implants Belmont WA are those with weak jawbone structure which lacks the support necessary for traditional implants, and patients who seek to replace an entire arch of teeth.
You should be in good oral health, have good overall wellbeing, and not smoke.
To find out if you are a good candidate for All-on-4 dental implants, your Belmont WA dentist will perform a series of X-rays and scans, carefully reviewing your oral health.
The All-on-4® Dental Implant Procedure
It can be terrifying to get implants for the first time. Most of that fear is probably due to the uncertainty.
Here is the procedure for getting an All-on-4® implant.
First, your dentist will make sure you are relaxed.
Next, your dentist will prepare your mouth for the implants, which involves removing remaining failing teeth and diseased or infected tissue from your jaw and gums.
Then, the implantation process starts. This means they will insert the titanium posts into your jawbone. Most likely, they will place two anterior implants and two posterior implants so the "anchors" can evenly bare the force of the denture.
After the implants have been placed, the surgical sites are cleaned, and all the incisions are sutured. You'll be taken to a recovery room where you can relax and take time to wake up.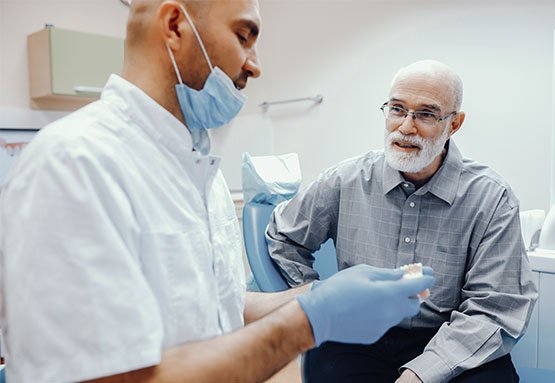 Recovery Period
The recovery time after getting conventional dentures can range from 3 to 8 months, but after getting All-on-4®, you should be functioning sooner. This is because the implants integrate into your bone and stabilise the denture on the day of the surgery.
When you arrive home from surgery, make sure you don't do anything that may disturb the tender areas.
Do not wash or touch the implant site except for gentle brushing with a very soft toothbrush. Smoking is a very bad idea if you want to heal fast and well.
Although you must be extra gentle, it's also important to keep your mouth clean. Your dentist will prescribe a medicated rinse to keep bacteria down in your mouth and help promote speedy healing.
All on 4 Dental Implants in Belmont WA
If you have lost a full arch of teeth due to decay or injury and are overwhelmed with the teeth replacement options available, you may enjoy the benefits that All-on-4 dental implants can provide.
For more information on All-on-4 dental implants in Belmont WA, please contact us today at (08) 9478 2349.
We are located at 5/132 Epsom Ave in Belmont WA.
Frequently Asked Questions
What are All-on-4 dental implants?
All-on-4 dental implants replace multiple missing teeth with fewer actual implants. This type of full teeth implants is more affordable and faster than traditional individual implants.
Will my results look obvious?
Absolutely not. All-on-4 dental implants look, feel and function just like natural teeth. No one will know you have implants unless you tell them.
Does All-on-4 hurt?
The All-on-4 surgery is virtually painless. After the anaesthetic wears off, you will experience a little swelling and soreness that will last a few days.
Many patients return to their normal routine 1-2 days after their surgery. This time is needed not because of pain, but because they need to adjust to the presence of their new teeth, as it may slightly affect their speech.