If your teeth are stained, chipped or misaligned, veneers may be an option for you.
Dental veneers are recommended to close small gaps or treat minor crowding when braces and bonding are not favoured or favourable.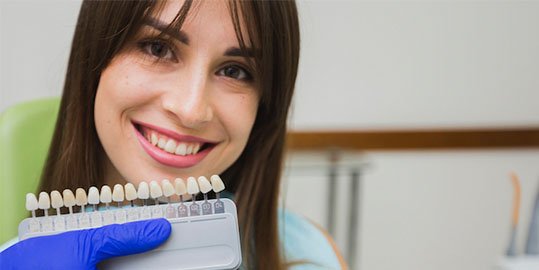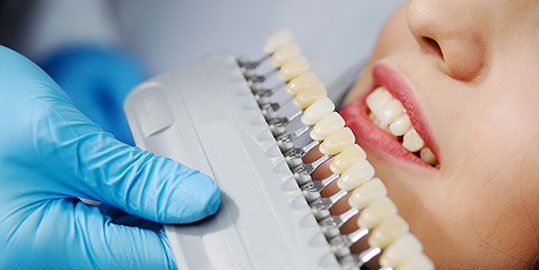 Qualified Candidates for Dental Veneers
Patients who are considering dental veneers to enhance their smile are typically looking to address structural or cosmetic issues with their teeth, such as:
Gapped teeth
Minor misalignment
Discolouration
To have dental veneers placed, patients should:
Have good periodontal and overall oral wellness
Be committed to proper oral care and hygiene
Have particular cosmetic goals, which they can inform their dentists at their initial check-ups, as well as realistic expectations
Have a sufficient amount of healthy enamel, as dentists usually remove a thin layer of enamel before putting veneers on
Uses of Dental Veneers
Repair decaying teeth
Repair cracked, chipped, or broken teeth
Make discoloured teeth look white again
Close gaps between teeth
Make teeth look longer
Improve tooth shape and appearance
Fill cavities and hollows left from dental work
Cover and protect exposed roots
The Dental Veneers Procedure
Dental veneers are considered one of the easiest and most affordable dental procedures available. Veneers cost ranges depending on the amount of treatment required and, in most cases, can be performed during a single visit. It is a drill-free procedure and usually does not even require any injections for pain.
During veneer treatment, the tooth surface is cleaned thoroughly and prepared with a special tool to make the surface more adhesive to the composite resin or porcelain. Once the teeth are prepared, the material is applied and shaped to meet the ideal size, texture, colour, and translucency.
The veneer is then polished and refined to create a brilliant and uniform smile. Dental bonding material can last between 3 to 5 years, depending on oral habits and diet. When the veneer begins to lose its durability, it can be repaired with a simple visit to the dentist.
Dental Veneers in Belmont WA
Would you like to see what your new smile could look like? Are you considering composite veneers to achieve that perfect smile? If so, visit your trusted Belmont WA dentist today! Find out which options are best for you.
Here at Epsom Dental Care, we pride ourselves with our one visit Crowns, Veneers, Inlays and Onlays. We have the latest CEREC Omnicam which makes these restorations in less than 3 hours! It is hassle-free for our patients, no more temporaries, multiple dental visits and see how we make your tooth in-house!
If you have any questions about our services, please contact us today at (08) 9478 2349.
We are located at 5/132 Epsom Ave in Belmont WA.
Frequently Asked Questions
What are dental veneers?
Veneers are thin, durable shells made of tooth-coloured materials that are attached to the surface of a tooth to improve its appearance.
What are the types of veneers available?
Porcelain and composite resin are the most commonly used dental veneer materials.
Why do I need to get dental veneers?
Dental veneers are great solutions for patients with discoloured, worn down, chipped, misaligned, spaced, uneven, or irregularly shaped front teeth.