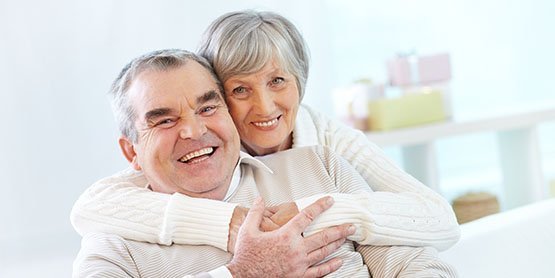 For the permanent replacement of missing teeth, dental implants offer patients an incredibly effective and natural-looking solution.
By opting for dental implants as opposed to dentures, you can restore your dental health by normalising your bite pattern and protecting the integrity of your jawbone and adjacent teeth.
Dental implants are an artificial replacement for a tooth's root. They fit directly into your jawbone and hold crowns or false teeth in place, in the same way, that roots support natural teeth.
Advantages of Dental Implants
There are several advantages to dental implants, including:
Improved appearance
Dental implants look and feel like natural teeth. Because they are designed to attach to bone, they become permanent.
Improved speech
With ill-fitting dentures, the teeth can slip within your mouth, causing you to mumble. Dental implants let you speak without worrying that teeth might slip.
Improved comfort
Because they fuse to your bone, dental implants eliminate the discomfort of dentures.
Easier eating
Slipping dentures can make chewing difficult. Dental implants work like natural teeth, allowing you to eat your favourite foods with confidence and without pain.
Improved self-esteem
Dental implants can restore your smile and make you feel better.
Improved oral health
Dental implants don't need reducing other teeth, as a tooth-supported bridges do. Because surrounding teeth are not changed to support the implant, more of your own teeth are left untouched, improving long-term oral wellness. Single implants also allow easier access between teeth, improving oral hygiene.
Durability
Dental implants are durable and will last for a long time. With proper care, many implants can last a lifetime.
Convenience
Removable dentures are just that; removable. Dental implants get rid of the inconvenience of removing dentures, as well as the need for messy adhesives to keep them in place.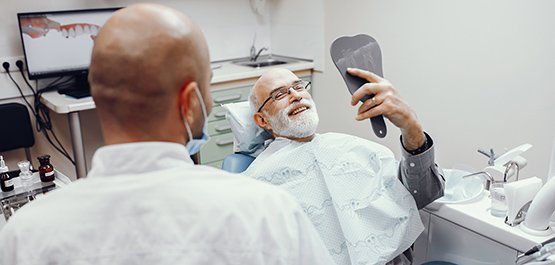 Planning and Diagnosis
A full exam, Study Models and a 3D scan is performed.
The scans are needed to show where your sinuses and nerves are, as well as to see the dimensions of the available bone to determine the best locations for the implants.
The Dental Implant Process
During the first surgery, an incision is made in the gum where the implant will be placed. A hole is drilled in the bone, the implant is placed into the hole, and the incision is stitched closed.
Two surgeries usually are needed. The first one places the implants in the jawbone under your gums. The second surgery exposes the tops of the implants.
The second procedure comes three to six months after the first. During this time, the bone and the implants integrate (attach and fuse).
Once the implants have become fused with the bone, the second surgery can be scheduled. This surgery is simpler than the first. A small incision is made in your gum to expose the tops (heads) of the implants.
A healing cap is placed on the head of each implant after it is exposed. This guides the gum tissue to heal correctly and is left there for 2-4 weeks.
Your gums should now be healed enough for us to make a mould for the laboratory, which will then construct the implant crown. This is then cemented or screwed into place 2-3 weeks later.
Dental Implants in Belmont WA
Our dentists Belmont WA understand that the sound of implants can be daunting for patients, which is why we have made it much easier and more comfortable dental procedure. Our very precise and less invasive approach helps our patients feel at ease.
If you have one or more teeth that are worn, damaged, or infected by a cavity, Epsom Dental Care can fix it with custom-made, lifelike dental restorations, like dental implants.
If you have any questions about our services, please contact us today at (08) 9478 2349.
We are located at 5/132 Epsom Ave in Belmont WA.
Frequently Asked Questions
What are dental implants?
Dental implants are screw-like posts, usually made of biocompatible material like titanium, that are used as tooth root replacements. They bond to jaws to provide a stable support for crowns and dentures.
Who is qualified to receive dental implants?
Anyone who has lost a tooth, multiple teeth, or all teeth is a possible candidate for dental implants. Dental implants can be installed in most adults. Ask your Belmont WA dentist about the benefits and risks to see if dental implants are right for you.